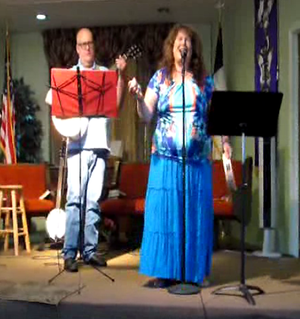 My, husband Tom and I have had an amazing nursing home ministry for about 7 years. We, also ministered at several local churches and other organizations. I, also had a thriving art therapy practice. During, these fruitful years of dedicated service to Christ people would always ask if we had a CD. Our reply was always the same. "We are working on it. Keep it in prayer." You, see we never had the money to go into the studio or afford the software needed to make the CD ourselves. Then, as our ministry and my art therapy practice grew and flourished we finally were able to purchase the needed programs to record our CD, but of course then we had no time in which to record. Oh, the irony! 
Well, here is where the story gets really interesting. The second week of March we lost everything in 1 fell swoop. Yep, that's right! No music ministry no art therapy, and no income. Done, gone, lost! For how long? We didn't know. Why? COVID 19! This virus had begun to grip the country and our lives were changed forever. 
Now, as heartbreaking and disappointing as this was and it sounds, we were able to put a positive spin on things. We, were devastated to say the least and we weren't just feeling sorry for ourselves. We also were concerned about everyone else who was affected by this strange virus.  We felt especially bad for our residents. After, the initial shock wore off we decided that this evil virus would not win! We would have the victory through the grace of God. My husband and I needed to think of ways in which we could still make an impact in God's kingdom while being stuck at home. So, we started making encouraging videos ministering in song and scripture. They were posted on You Tube and Facebook. 
Finally, the part about the creation of the CD. It became quite clear there was to be no returning to our previous ministry anytime soon so, the idea was hatched for Something for Everyone. With an abundance of time on our hands, the supernatural funding, and a plethora of material given to us graciously by the Holy Spirit we knew the timing was right to proceed with the making of the CD. We, needed another avenue to spread the gospel and this seemed like the perfect answer to our question of what next and what now. So, we learned how to use the software, created the music tracks, laid down the vocals, harmonies, instrumentations, and viola Something for Everyone was born. It took a lot of time and patience. We had many obstacles and distractions along the way, but the good Lord gave us the diligence needed to complete the project.  If you're wondering how the title came about, this happened. While on one of our nightly walks I was thinking about the various eclectic styles we had on this CD and I thought there is really something for everyone here. "Ah, that's it! Something for Everyone! Yes!" My husband wondered what on earth I was talking about, so I explained and he agreed it was a great title. 
Tom, and I are extremely pleased that God has allowed us to make this CD and utilize the gifts and blessings He has so graciously bestowed upon us and we truly hope it is a blessing to you.
So, there you have it! Something for Everyone. I hope you enjoyed our little story. Stick with us on this journey. There's lots more to come! 
Be happy! Be blessed!